There is any number of reasons you may be dissatisfied with your smile. At Ashland Dental Arts, we don't just worry about the health of your smile. We care about how you look and feel, too! That's why we offer smile makeover services that will help give your grin the polish you've been dreaming of.
The Art of the Smile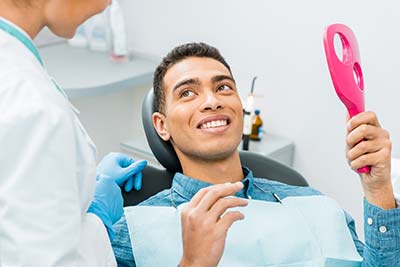 A skilled dentist can repair damaged teeth and perform preventive services, but there's real artistry behind sculpting a smile! When you schedule a consultation for a smile makeover, our staff will create a comprehensive treatment plan that will simultaneously restore your natural smile while also attending to the aesthetics of your mouth!
We combine a number of services during a smile makeover, such as:
Teeth Whitening
Dental Veneers
Color-Matched Fillings
Dental Implants
Cosmetic Dental Bonding
No matter how you feel about your smile, our team can help transform it, right at our local Ashland, OH dental office.
Complete Smile Makeover
Many patients feel the need to hide their smiles, especially if damage or staining has been a persistent problem in their lives. The clinicians at Ashland Dental Arts are skilled in treating a number of cosmetic and health-related conditions. Smile makeover treatment plans often manage multiple conditions simultaneously, including:
Damaged or Missing Teeth: Lost or broken teeth can affect how you look, chew, and speak. Dental crowns can protect the sensitive pulp inside teeth, while dental implants or bridges can replace areas that need to be removed or have fallen out entirely.
Extensive Staining: Eating and drinking certain foods can produce dark stains deep within teeth. Professional whitening services and tooth-colored overlays make short work of such problems.
Crooked Teeth and Gaps: While orthodontics and clear trays are always an option for closing gaps and straightening teeth, dental veneers may also help to disguise the issues with a sculpted, natural appearance.
Excessive Decay: When cavities grow too large, they can greatly reduce the strength of your teeth. Color-matched fillings and crowns can repair damage discreetly.
No matter your issues, the team at Ashland Dental Arts can make your smile look and feel healthier than ever before.
Make Over Your Smile With Ashland Dental Arts
If you feel it's time to give your mouth a makeover, call us today. Schedule your initial consultation and get started down the road to a healthier, more confident you!