From overcrowding to unsightly gaps, there are many reasons why our patients come to our Ashland dental office for cosmetic dentistry. Utilizing revolutionary virtual smile software, our team can project how you will look post-treatment, offering you a chance to know what kinds of changes we can bring.
We are proud to offer the top cosmetic dentistry services near Ashland, OH - and beyond!
Porcelain Dental Veneers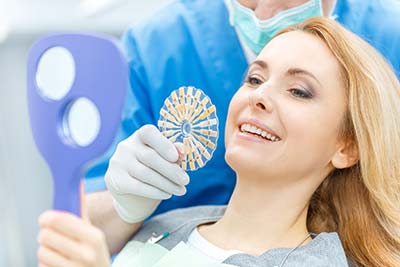 Touching up the looks of your teeth doesn't have to be an in-depth procedure. Dental veneers offer our patients a way to dramatically change the look and feel of their teeth using non-invasive techniques. This leaves you with much of your natural dentition while literally covering unsightly gaps, cracks, breaks, and discoloration!
For veneers, the dentist shaves away a small amount of tooth enamel from the affected area. Then thin coverings that are specially crafted to restructure the area are cemented into place. This leaves you with a beautiful, sculpted smile, often in as little as 2 appointments!
Professional Teeth Whitening
Over-the-counter products are somewhat effective at treating tooth stains, but for the best results, you should go with the pros! Using the most modern techniques, we can help improve the look of your smile. Our teeth whitening system is effective, safe, and convenient. We can even offer take-home options that let you refresh your pearly whites at your leisure.
Dental Implants
Severely damaged and decayed teeth might need a more permanent solution. Dental implants are a great option for patients needing single or multiple teeth -replacement, or even entire dentures to be locked securely in place. Implants are used in a variety of procedures, including:
Tooth replacement
Implant-retained dentures
Implant-supported bridges
Implant-supported dentures
The root of each dental implant is constructed from titanium which allows for secure placement in the jaw. In addition, constant pressures provided by daily use will help increase bone density, making the jaw even stronger!
Smile Makeovers
A skilled dentist can get your teeth to feel better and function properly, but crafting a show-stopping smile is a truly special art. To get the most comprehensive treatment, our team uses both restorative and cosmetic dentistry to completely rework your smile and give you a smile makeover.
Using a variety of treatments, our clinicians work with you to create the smile of your dreams. Ashland Dental Arts uses such treatments as:
Teeth whitening
Dental veneers
Dental implants
Dental bonding
Color-matched fillings and crowns
With the proper treatment plan, your dentist can help you create the smile you've always dreamed of.
Before and After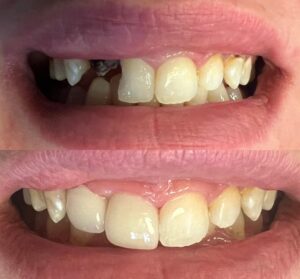 Designer Smiles by Ashland Dental Arts
Get on the road to a healthier smile! Call us today to schedule your consultation!